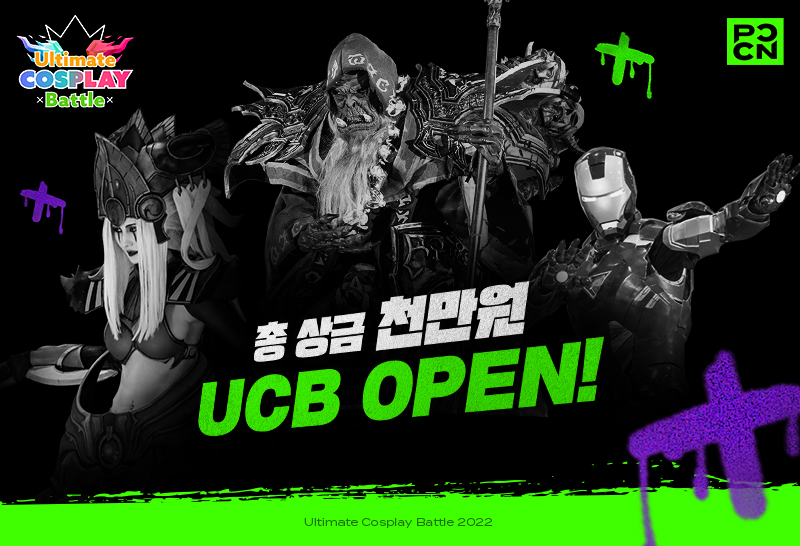 The competition for world-class costume players will take place in Seoul POPCON, the new global pop culture convention.
The Seoul POPCON Organizing Committee announced that registration for Ultimate Cosplay Battle (UCB) will be open from 30th March 2022 until 24th July 2022 to cosplayers in the world.
The Ultimate Cosplay Battle is a global cosplay competition held online and offline where you can meet world-class costume players. Regardless of race, nationality, gender, or age, anyone who is passionate about costume play can join at Ultimate Cosplay Battle.
Cosplayers can apply for three types of categories: "Needle Work" which makes costumes by sewing and embroidery, "FX" which features animatronics, visual effects, mechanical effects, special-effect makeup, prosthetics, and "Armor" which uses special materials such as acrylic, EVA foam, worbla, wonderflex, cardboards for the costumes. The competition will consist of application review, online preliminary rounds, and on-site finals, focusing on costume production skills and stage performance of participants. The on-site final round will be a one-on-one tournament battle as a featured event of Seoul POPCON on 28th August 2022.
The total prize pool is 10,000,000 KRW, ▲ 1st place prize for 5 million KRW (1 person) ▲ 2nd place for 2 million KRW (1 person) ▲ 3rd place for 1 million KRW (1 person) ▲ 1 Award for each category 500,000 KRW (1 Award/ Category) ▲ Popularity award 500,000 KRW (1 person). In particular, the 1st place prize winner will be qualified as a judge for the Ultimate Cosplay Battle in 2023. More information about the process of competition and benefits for winners can be found on the Seoul POPCON official website.
"The Ultimate Cosplay Battle is a place for the challenge and creative costume play for cosplayers around the world. We will support cosplayers to fulfill their dreams through our event", said Seoul POPCON Organizing Committee.
Meanwhile, the organizing committee rebranded 'Seoul Comic Con' to 'Seoul POPCON (Seoul Pop Culture Convention)' serving as an extensive global pop culture hub, and will showcase outstanding Korean and global contents encompassing the pop culture industry.
Seoul POPCON will be hosted in person from 25th to 28th August in Seoul, Korea. More information can be found on the Seoul POPCON official website and SNS.